Knee Friendly Fitness
April 19, 2017
It's been a little over five weeks since I tore my ACL and I can definitely say that it's been a humbling experience. My injury has not kept me from training clients and teaching my weekly barre classes. However, the real challenging part of this whole experience is having to drastically change my own workouts and knowing when to rest. Since running, barre workouts and group fitness classes are out of the question, I've had to find other ways to safely raise my heart rate. I've managed to work around my injury and still perform some killer upper body and core moves. Lately, I've been lifting heavier weights and using battle ropes for (seated) cardio. It's so important to continue to move even when you're faced with difficulties. Not only to stay healthy and in shape, but also for the mental health benefits of fitness! Each week I gain motivation and feel more prepared to tackle my surgery. Check out one of my workouts below.
Battle Ropes (3 sets total):
Alternating Waves – 45 seconds
Double Waves – 45 seconds
Russian Twist Slams – 45 seconds
Dumbbells (3 sets total):
Chest Press – 15
Seated Shoulder Press – 15
Overhead Triceps Extension – 15
Chest Fly (legs raised) – 15
Floor (3 sets total):
Triceps Dips – 15
Pushups – Close Triceps Position (pad for the knees) – 15
Weighted Sit-Ups – 15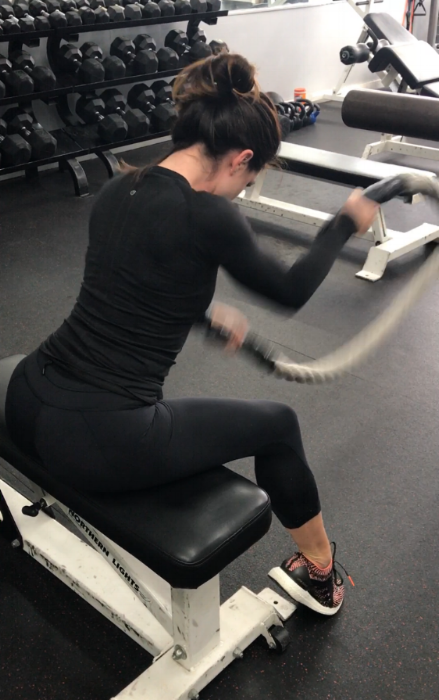 Follow my Instagram stories for daily clips of my diet, clients' workouts and my pre-surgery workouts!